The simple answer is that we really care about doing a great job
We know that hiring a tradesman to work at your home can be a stressful process. You want to make sure you find someone you can trust, who will give you an honest estimate without hidden charges, and who will come round as soon as possible.
Many plumbers don't treat their clients as individuals, and instead just see each job as another set of pipes that need fixing. But at SOS Heating & Plumbing, we look at things differently.
We understand that when a customer invites us into their home, we're in a privileged position, and we owe it to them to carry out a flawless job. That's why we always take our time to explain exactly what we're doing, we're always happy to answer any questions, and we take every piece of debris away when we've finished to leave your home as clean and tidy as it was when we started.
We also don't charge a call-out fee. We don't charge for quotes, and we'll visit your property for a detailed consultation completely free of charge.
We believe tradesmen should never cut corners, so we don't ever rush a job. We will always use good quality materials, ensuring our work is designed to last.
And we never leave our customers high and dry. We always carry spare portable heaters in our vans as a back-up during boiler repairs, because nobody likes being without heating. We rarely use them though, as we'd rather work late and make sure the job gets done first time.
All our work is guaranteed and we're always happy to come back if you need anything checked. See our full set of terms and conditions for details.
"Shaun is a highly skilled, meticulous tradesman, who offers an exceptionally professional plumbing service. Where others see problems, Shaun finds solutions by tailoring his expertise to each client's needs. If you need a plumber, I would look no further than Shaun."
NO CALL OUT FEE
Free quotes with a detailed consultation at your property when it's convenient for you
All plumbing work is fully insured and guaranteed for 12 months
10-12 year warranty with all our installed Worcester Bosch Boilers
Fully accredited with Gas Safe & Worcester Bosch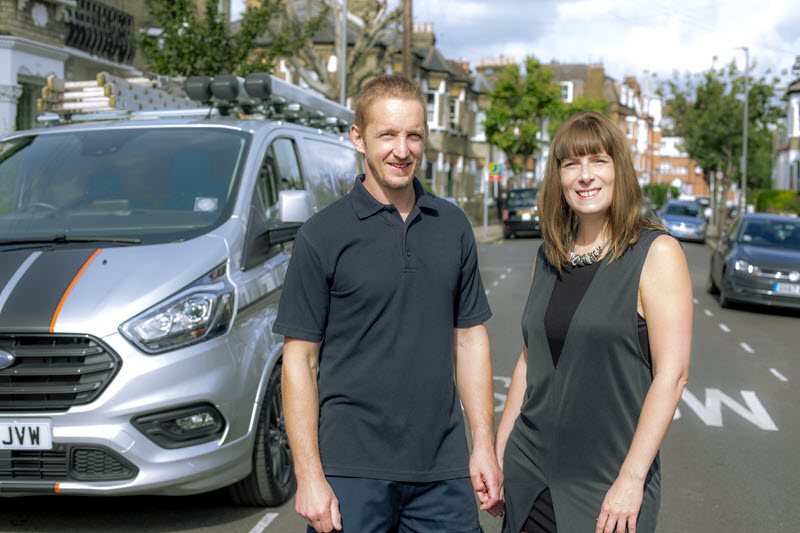 Thank you to everyone
Our family business relies on the fantastic support of you, the customers. There are a lot of tradesmen out there offering similar services, so we really appreciate the fact that you have chosen us.
But more than that, we are proud that so many of you have recommended us to friends, family and colleagues. These personal referrals mean a lot to us, because it means we have achieved what we set out to do: complete a professional job for a genuinely satisfied customer.
Thank you for your ongoing support!
Shaun Overy, Director
Francesca Overy-Brewer, Director

The team at SOS helped me with a plumbing issue at my property. They were honest, clear and quick to identify the issue. We will be using them again! Thank you so much.
Nicola B – London
Efficient and prompt service from Shaun at SOS – many thanks.
Mary B – SW18
Shaun is very professional and diagnosed and sorted the problem with our boiler. He is coming back to service it and carry out another job. Totally recommend.
Caroline C – SW18
Great. Quickly fixed a persistent and annoying water hammer problem and replaced stopcock.
Andrew R – SW18
As ever a first class service from Lisa in the office to Shaun, nothing is ever a problem and always happy to do over and above our requirements
Colville Primary School – W11
Top-Class Service from a Genuine human-being that knows his job inside+out. Friendly, patient, professional. Worth waiting for. And Lisa in the office is great!
Cos – SW15
As I was not too well when shown the replacement tap before fitting I did not notice it was not what we ordered. However it was what we wanted – well done!
Pau – KT5
Shaun helped remove and install a new gas cooker. He was thorough and efficient, and made sure everything was working correctly before he left
Gwen B – SW London
From the moment of the first phone call to the door closing behind Shaun after he had fixed the fault everything was absolutely excellent. Great people.
Jayne S – Wimbledon
SOS provided a really efficient, effective and reliable service.
Bill C, Surbiton
Very helpful and diligent, excellent service. We've had a lot of bad experiences before but we found these guys to be very trustworthy and truly go above and beyond. We would 100% solicit their services again, brilliant work. Also managed to finish ahead of schedule, which is positively unheard of!
Simon E, Herne Hill
Shaun was great and did an excellent job. Hard working, punctual and competent.
Julia B, Leatherhead
I have used Shaun and his team on a number of occassions. The team are always polite and arrive on time. They are tidy and the quality of work is excellent. I feel at ease and in safe hands. Recommending Shaun Overy Services to anyone who needs reliable heating and plumbing service is no issue.
Jan M, London
Trusted, great plumber, only one issue would be they are busy but it's a good thing!
Louise W, Streatham
We have been hugely impressed with Shaun's professionalism, thoroughness and dedication. He and Courtney were charming and excellent. Thoroughly recommended.
Luciana A, Wimbledon
Shaun and his team always provide a brilliant service. They arrive on time. Clean up afterwards. Their workmanship is great. We had a very tricky plumbing and heating job which they completed brilliantly. They are trust worthy and I'd be happy to recommend them.
Lucy T – London
Prompt, fantastic service from a highly experienced gas engineer.
Brendan B – SW18
The very best of local plumbers. I can't rate them highly enough. From first phone call to finished job, helpful, professional and thorough
Jill L – KT5
Amazing service. Genuine care and delivers an honest resolution to any plumbing concerns. I have used this company for years and highly recommend their service.
Avril – SW18
Thank you to SOS for rescuing me in a real SOS situation, a leaking pipe under a floor board! It was fixed in no time, I highly recommend SOS – thanks!
Tracey R – Tooting
Excellent. On time, efficient, helpful and fairly priced. Very pleased
Carmen C – SW London
Very well organised pre visit and very thorough and professional job
Sarah C – Richmond
SOS fitted new taps to two bathroom washbasins – very pleased with the work and the communication. The job was completed on schedule.
Nigel R – Putney
Real problem solvers. Excellent advice plus high quality workmanship. Really comfortable and friendly people to have working in the house. Can be recommended with complete confidence.
Michael L, Wandsworth
Absolutely first class! Very happy indeed.
Jay R, Southfields
Good responses, very punctual, listening well and we are happy to associate with. What a great guy!
Koji W, Putney
SOS refitted our very dated bathroom. We wanted a victorian style bathroom that was modern, simple, yet spacious and stunning. SOS met this brief perfectly. They advised us on products and ideas, they purchased them for us and fitted them to a very high standard, it looks amazing… so much so that some of our friends have 'copied the look!'.
Karen F, Ewell
We are delighted with the complete bathroom refurbishment that Shaun installed. The service was professional from start to finish. The work was carried out to a high standard and on time. I would not hesitate in recommending him and his team.
Daniel B, Wandsworth
I used SOS to fit my gas fire. I have young children and I needed to make sure I had a trusted, qualified gas engineer in my home. I needed the gas fitted with new pipes and to be run under my floors and channeled into the wall but with no mess. SOS looked after my home like it was their own, and made sure when they left, my house was safe from gas.
Paul E, Epsom
Lovely to deal with, nothing was too much trouble, excellent all the way through. Will use again.
Lisa H, Weybridge
To find out more about how we can help you, call us on
020 3302 1537
S.O.S Heating & Plumbing Ltd
We work within the M25
Office hours: 7:30am – 4:30pm, Monday to Friday
Membership